Posted on January 12th, 2020 in JavaScript by George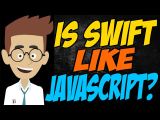 Today I would like to bring forward comparison between closures in JavaScript to closures in Swift.
Just to make it clear, Swift is not the same or like JavaScript.
Swift, it is a static typed multi-paradigm, object-orientated language, JavaScript is object-orientated prototype-based language (despite the syntactic sugar added with ES6 class, constructor, etc)
Whenever you get to use one of the main frameworks abstracted on top of each of these two programming languages you will feel the difference.
They have a very different history and different purposes (of course there are some middle grounds, as a matter of perspective).
Both languages are borrowing syntax and programing methodologies from other programming languages. And that is a good thing.
This is not the topic of this post though.
Let's get started.