Posted on November 18th, 2019 in Miscellaneous by George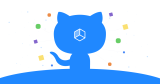 Do you find yourself having often to create a new project and also have to create a git repository for it?
Would you rather create the repository on the command line instead of a tedious trip to the GitHub website or locally installed git client?
Only one line in terminal ...
curl -u 'yourGithubUserNameHere' https://api.github.com/user/repos -d '{"name":"newRepositoryName"}'